Woodwind Teachers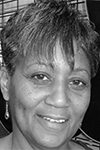 Ejuana Andrews – $35 Per Lesson
ONLINE ONLY

Ejuana's primary instruments of choice are piano and flute but she also has extensive knowledge of most other woodwinds, thanks to her degrees in both musical performance and music education. She has over 30 years of teaching experience in both private music lessons and classroom environments. Ejuana specializes in traditional styles as well as worship music and jazz.
Daniel Kennett – $35 Per Lesson

Daniel Kennett is a classically-trained clarinetist with more than 14 years of experience playing and performing on stage. He has performed with ensembles such as The Pacific Lutheran University Wind Ensemble and Symphony Orchestra, the Seattle Festival Orchestra, the Seattle Wind Symphony, and the United States Marine Corps Band. Due to his experienced background with music, he has an extensive knowledge of orchestra, wind band, and chamber ensemble literature. Daniel Kennett has toured and performed in various parts of the world such as: Japan, Guam, The Solomon Islands and Thailand.





Melissa McCreary – $35 per Lesson

Melissa McCreary was captivated by the oboe at an early age. Many years and even more reeds later, she graduated summa cum laude from West Virginia University with a bachelor's in Music Education, specializing in oboe. Since her graduation in 1992, she has picked up viola and alto sax. She taught orchestra for nine years in Maryland while playing viola with the Susquehanna Symphony. Since coming to Fredericksburg, she has played with numerous ensembles, including the UMW Philharmonic, several community bands and the St. George's Chamber Orchestra/Ensemble. From 2012 to 2022 she taught orchestral strings and woodwinds at Catfish Music in Stafford. She currently performs with the UMW Philharmonic and at St. George's Episcopal Church in Fredericksburg.


John Nelson – $35 per lesson

Brass: Entry to advanced. Trombone, euphonium, tuba.
John has a BA in Music Ed. from Trenton State College, NJ. He taught junior high school instrumental music for 13 years and is a former member of the Rappahannock Pops Orchestra. He is currently the principal horn of the Fredericksburg Community Concert Band and a member of the UMW Philharmonic.


April Wheelis – $35 per lesson

Brass: Entry to advanced. Trombone, trumpet, euphonium, tuba, saxophone, clarinet, and vocals.
April Wheelis has over 20 years experience in various instruments. She studied performance, theory and composition in the jazz program at the University of Maine, Augusta. She has also played in various orchestras and ensembles. She is currently the Music Ministry Director for Rock Hill Baptist Church, working with adults and youth on both choral and orchestral music.