Woodwind Teachers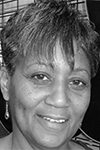 Ejuana Andrews – $30 Per Lesson
Days available: Monday
Ejuana's primary instruments of choice are piano, flute, and clarinet, but she also has extensive knowledge of most other woodwinds, thanks to her degrees in both musical performance and music education. She has over 30 years of teaching experience in both private music lessons and classroom environments. Ejuana specializes in traditional styles as well as worship music and jazz.
Julie Ann Mack – $30 per lesson
Days available: Monday
Julie Ann Mack is an accomplished vocal, clarinet, and piano instructor with a Bachelor's degree in Music Education from West Virginia University ('14). She has been teaching in a private studio and classroom setting since 2012. Currently, she is teaching chorus at Rodney Thompson Middle School and can be seen performing at Pied Piper Theatre of Manassas, and Christian Youth Theatre of Fredericksburg.
John Nelson – $28 per lesson
Days available: Monday, Thursday
Brass: Entry to advanced. Trombone, euphonium, tuba.
John has a BA in Music Ed. from Trenton State College, NJ. He taught junior high school instrumental music for 13 years and is a former member of the Rappahannock Pops Orchestra. He is currently the principal horn of the Fredericksburg Community Concert Band and a member of the UMW Philharmonic.
April Wheelis – $28 per lesson
Days available: Monday, Thursday, Friday
Brass: Entry to advanced. Trombone, trumpet, euphonium, tuba, saxaphone, clarinet, and vocals.
April Wheelis has over 20 years experience in various instruments. She studied performance, theory and composition in the jazz program at the University of Maine, Augusta. She has also played in various orchestras and ensembles. She is currently the Music Ministry Director for Rock Hill Baptist Church, working with adults and youth on both choral and orchestral music.